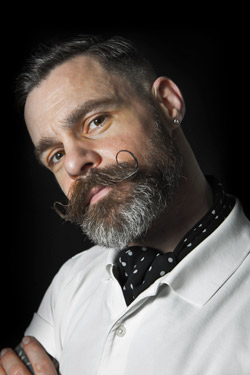 ABOUT
Nathan's films include CURTAINS, a comedy-drama screened in the Flare Film Festival 2015 and shortlisted for Best Comedy in the Portobello Film Festival 2016, ROCK'N'ROLL SUICIDE, or the puppetry promo Bowie never made, which won the lo-budget award in the London Short Film Festival and screened in the London Lesbian & Gay Film Festival, and the documentaries MEETING MR CRISP - which premiered at the NFT, toured nationally with the BFI and internationally with the British Council, screening in New York, Vancouver, Cork, Israel, Berlin, Sydney, Turin - and THE SIGNIFICANT DEATH OF QUENTIN CRISP - which was broadcast on Channel 4.

Theatre projects include SWANSONG, a bittersweet comedy about Grey Liberation in the care home which was part of the King's Head Theatre's Queer Festival '17 and And What Queer. Arts. Festival '18, I LOVE YOU BUT WE ONLY HAVE FOURTEEN MINUTES TO SAVE THE EARTH, a creative collision of cabaret, live art and film which toured the UK 2012-13, and VAUXHALLVILLE, a weekly variety show at the Royal Vauxhall Tavern which ran for over two years, and was in residence at the Latitude festival for two summers. Other productions at the RVT include a PANTOMIME TRILOGY, AN ELECTION ENTERTAINMENT and DAVE'S DROP-IN CENTRE.

This last was one of a number of collaborations with the 'divine' DAVID HOYLE, which also include THEATRE OF THERAPY at Chelsea Theatre, a DOROTHY NIGHT at the Royal Festival Hall, UNPLUGGED at Soho Theatre, and a series of short films which have been acquired by the National Film Archive and have also been released on DVD by the Live Art Development Agency.

Other collaborations include writer/director on FLIGHTS OF FANCY, a one-woman extravaganza by Fancy Chance at Soho theatre, direction on THE NOVICE DETECTIVE, a show by Sophie Willan, 7 DEADLY SINS, a punk cabaret with The Tiger Lillies & Ophelia Bitz (Soho Theatre & Speigeltent), ATOMIC, a lo-fi lip-sync re-mix of Blondie's Greatest Hits with Polly Wiseman and direction on FEMME FATALE, a darkly comic drama about fame, failure and feminism at Wilton's, also by Polly Wieman. He was part of Duckie's Olivier award-winning C'EST BARBICAN and recently directed BREAKING THE SILENCE at the Arcola, produced by 89th Productions.

89th also produced Nathan's solo show FOREIGN AFFAIRS. Previous solos include HEAVEN KNOWS I'M MISERABLE NOW - a musical inspired by the songs of The Smiths for casio-keyboard and puppets - WOW! - a recreation of Kate Bush's last live gig, with puppets - PUNCH & JUDE - a new take on the children's classic for age of civil partnerships - RATHER BE DEAD THAN GAY - an ironic look at gay culture through his own sexual and romantic disasters - THE QUEEN STRIPS THE RIGHTS OF HER SUBJECTS - a puppet burlesque.

Nathan has performed at venues and festivals including Roundhouse, Traverse, ICA, Little Angel, Drill Hall, Bethnal Green Working Men's Club, Madame Jojo's, Bistrotheque, Unity Theatre, Tron, Arches, Green Room, Junction, Soho Revue Bar, Contact, Stratford Circus, Artsadmin, Artsdepot, Turnmills, Komedia, Hoxton Hall, ActArt, Glastonbury, Bestival, and Aldeburgh.

He studied Fine Art at Oxford University and was then awarded an ACE bursary to write a play for The Bush Theatre. Other plays include BABY, in the 1998 Royal Court Young Writer's Festival and GUERILLA GARDENING, which began at BAC and went on to the Pleasance Edinburgh. More recently, KIN, was read at the Rosemary Branch Theatre in 2016 as part of twenty plays for twenty years.

Nathan's poetry collection THREADS was long-listed for the Polari First Book Prize, his second, CNUT is published by Inkandescent. He is long-listed for the 2020 Live Canon International Poetry Prize and recently had his first short story published in Untitled: Voices

The album ALIENATHAN, originally recorded in 2000 was reworked and released in 2020. Nathan also plays oboe with London Gay Symphony Orchestra.